ANGELS LANDING: ZION NATIONAL PARK: OBSERVATION POINT AND BEYOND (page 8)
Once you go beyond Walters Wiggles, then what? Observation Point. Then the "chain".
Getting to Observation Point (Angels Landing), has it's own difficulties and dangers. Once you leave Observation point (flat area for resting) the path becomes a narrow trail straight up, with your only support is a chain. The chain is your friend. This point and beyond is not for everyone, even those who survived Walters Wiggles. On your right side you have about a 400' drop. On your left you have a 1500' drop. There is a small foot path inbetween as you will see in the below photos.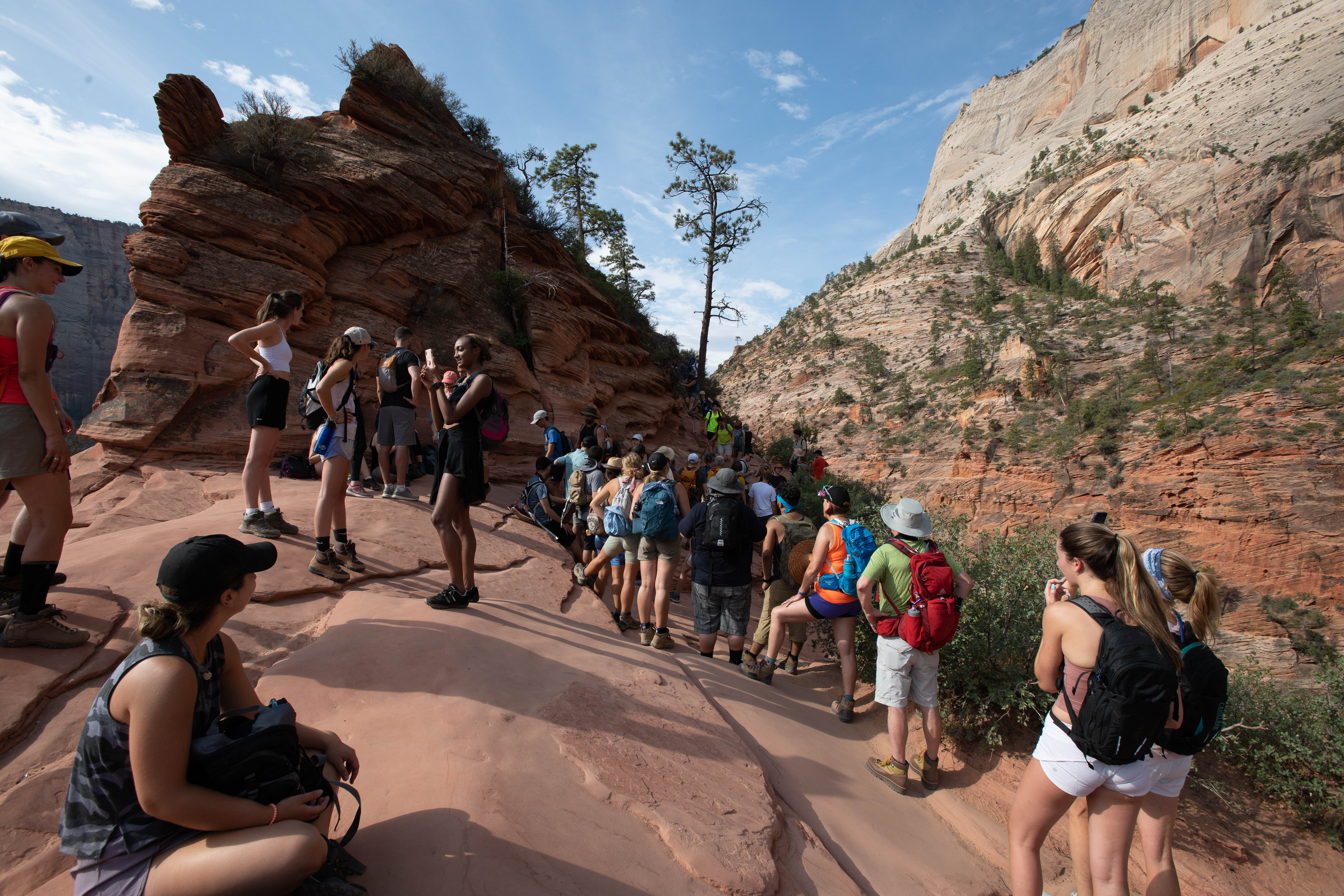 The chain below is your friend. This is all that stands between you and a fall of 400'. So, say hello to your new friend. Oh yes, I forgot. There are spots on this particular trail that are 1500' down. See the last photo.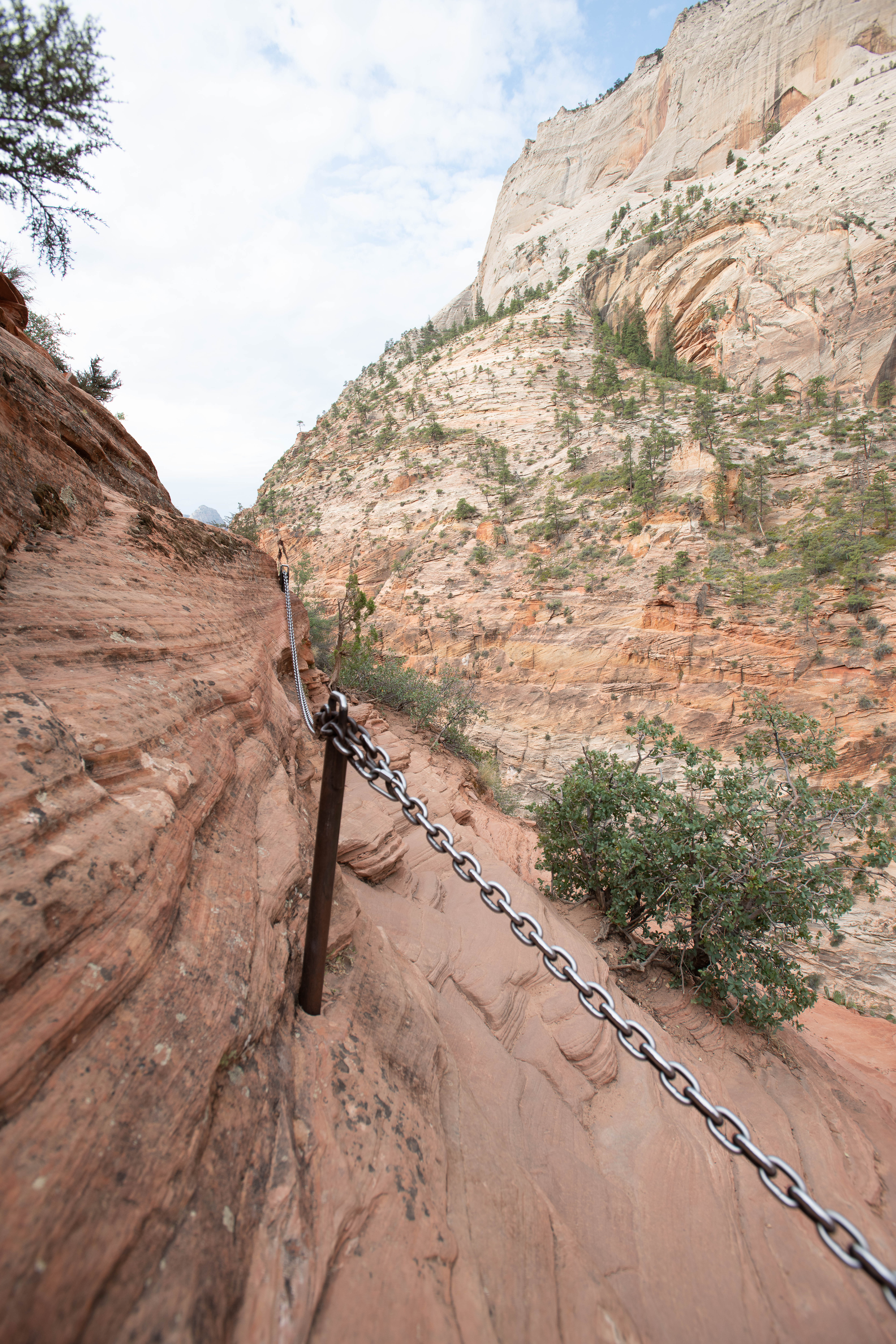 Zion is not here to make you feel good or safe. You have to work at this to go to the next level.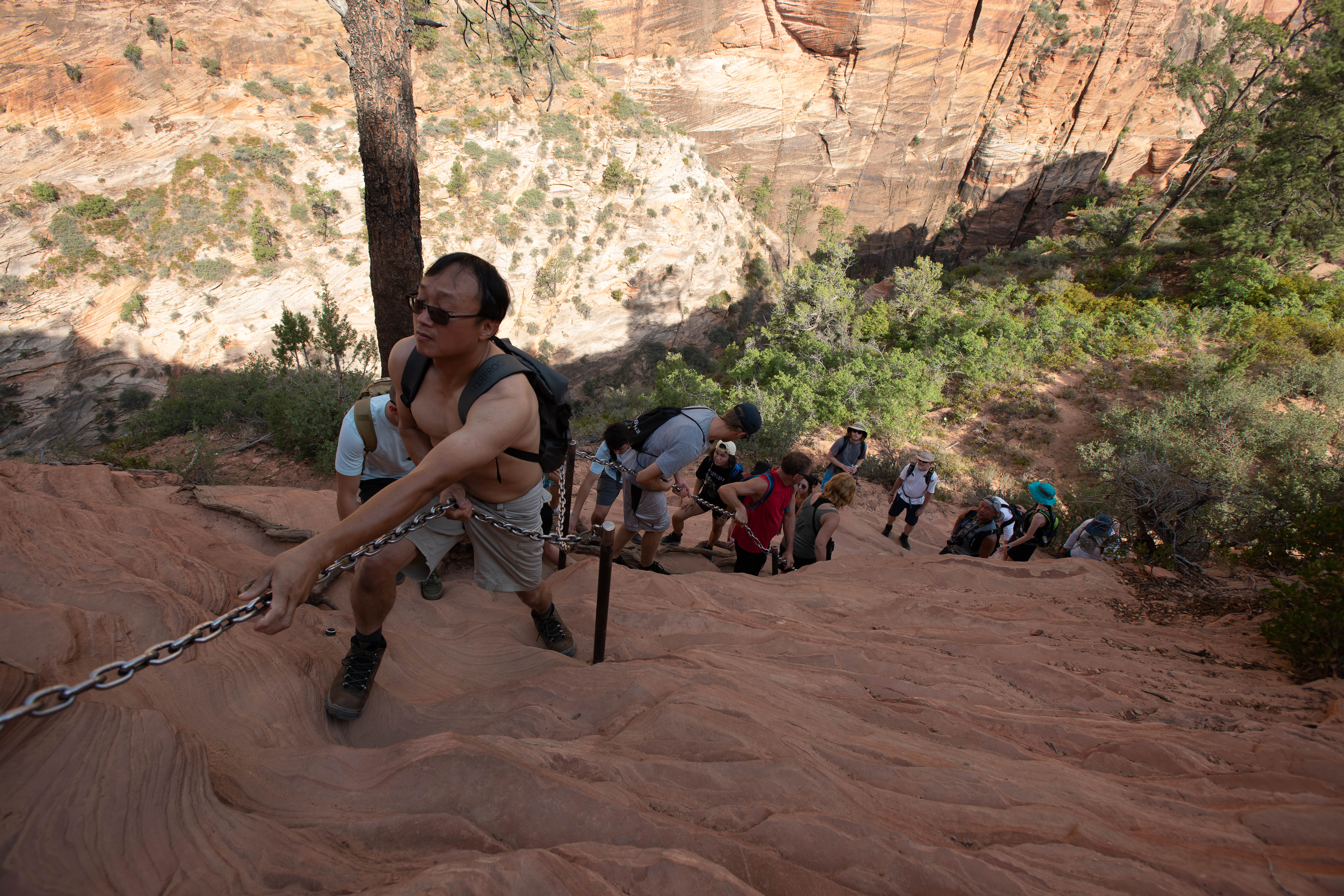 One of the problems here especially in the summer time is the abundance of people all trying to have the same experience at the exact same time. Some are going up, some are going down. All have to share the narrow path and the chain.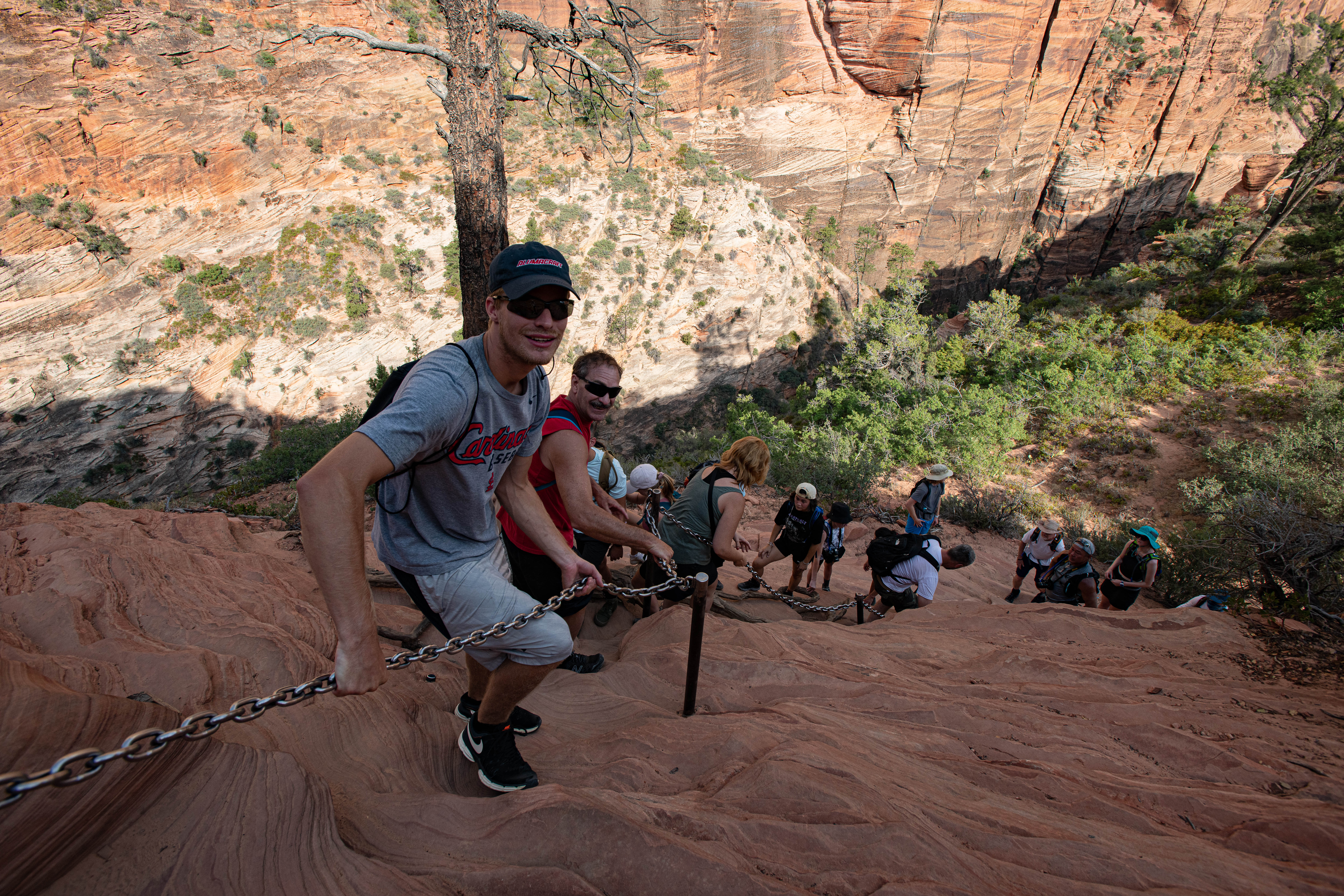 These bottom two photos is the point where things get a bit dicy. You can see the young lady hiking with out hanging on to the chain. That is very dangerous. To her immediate right is about a 400' drop. The right photo shows a young lady with the cap and smiling. On her immediate left is 1500' straight down. See last photo.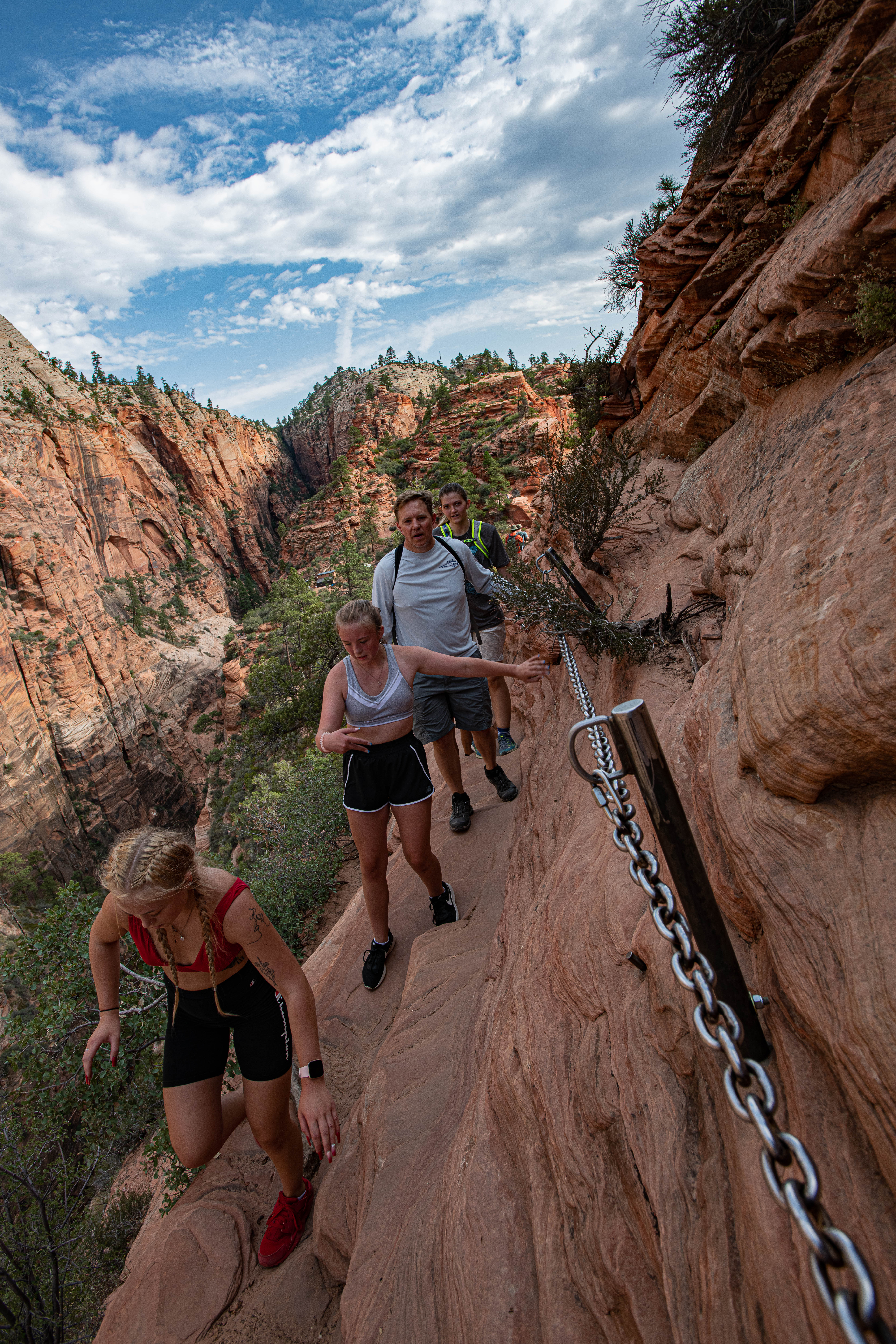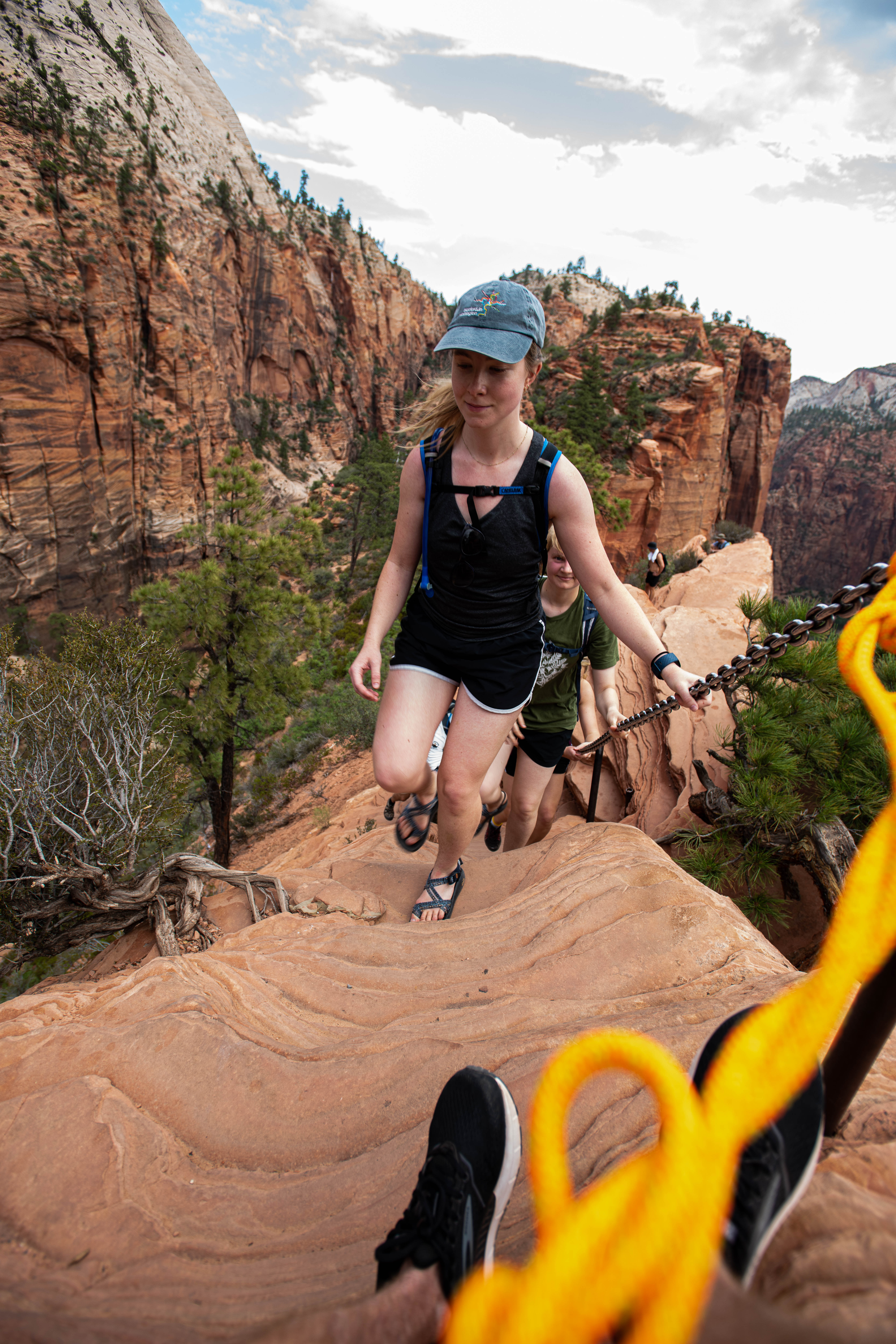 I would like to point out that I was belayed (tied off) the entire time. Photographing while hanging on can be dangerous, I was more focused on my camera than my own safety. So, thanks to my US Army training, I made a Swiss Seat, and then used a short piece of mountain climbing rope and a carabiner to secure myself to the chain. That way I could take photos of the people going by and not worry about falling.
This is a youtube video of the Army Air Assault School, which I attended back in my youth. We learned rapelling techniques off of buildings and out of helicopters 90' in the air, and on graduation day we had a 10 mile forced march with full field gear and an M16. Then at the end, you run in to the finish line. It is not over. You then shout out your number while standing at attention . They check you off, then you have to go over and do 5 pullups without letting your weapon or gear touch the ground. Yes all of that was part of my youth. FYI: I attended the Army Airborne School also, where you learn to parachute out of aircraft. I was never one to sit around you know. ARMY AIR ASSAULT SCHOOL ARMY AIRBORNE SCHOOL
This type of Army training was my finishing school, so even at my age, hiking Zion just brought back memories.
This is not trick photography. That is about 1500 feet straight down. You see that quite clearly when you are hiking along certain parts of the chain. So, what are you waiting for? Get going. Life waits for you!