ZION NATIONAL PARK page 2
Page 2. More of the same, but boy there are some beautiful shots embedded in these pages.
This shot was taken out in the parking lot of my motel (Flanigan's) in Springdale, Utah FLANIGAN's HOTEL . These types of shots are common. It was in the late afternoon. You have to learn to use the sun to your advantage. In the morning, this side of the mountain is dark but in the late afternoon it lights up like a Christmas Tree.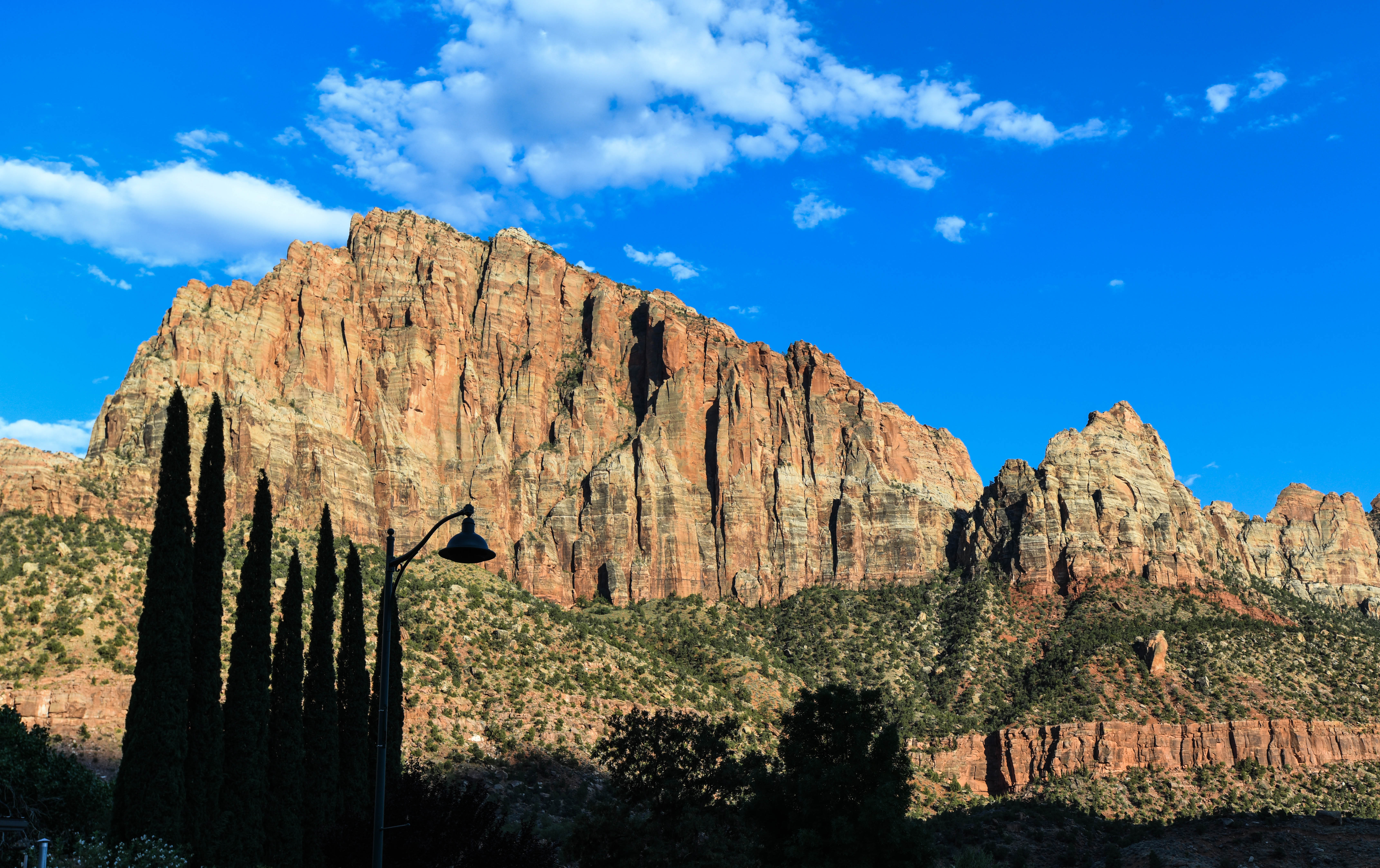 Ok people. The facts of life. Zion is not for everybody. This is the way you get around. This ain't Disneyland. There is no one there to cater to your needs. You are basically on your own. Everyone including me walks from their hotel room to the front gate of Zion and you have to pay each day to get in. However, in my case I have a SENIOR pass, PARK PASS which I paid for, and I can get in to any Federal Park for free as long as I live. Not bad. Or you can get a year pass and they have other arrangements also. However the point is, you are either walking/hiking or riding bicycles. You take the shuttle bus, which BTW are not air conditioned, and they drop you off. You do your hike, you return to your shuttle pick up point then they take you back to the HQ of Zion NP. From there you can hang around the gift shop or begin walking back to your hotel. So, everyday I was walking/hiking about 6 to 8 miles a day. I lost weight, and was eating ice cream every night. My back quit hurting, my knees stopped pinging me, and my hip joints loosened up. As far as I am concerned I felt like I was 40 again!! Would I go back? You bet.
The mountains below caught the morning sun. The top photo of the mountains were behind me, thus dark. You have to learn how to shoot your images depening on the time of day. You can't just point and shoot and always expect a good shot. In fact, the contrast is harsh here. You see how dark the Spotted Dog Cafe is? SPOTTED DOG CAFE The Cafe was right across from my hotel room and part of Flaniagan's hotel system. Excellent food. Not cheap, but good. Very good. Anyway, as I get further into my photographs on the web page I will explain more about the harsh contrast. It was driving my camera crazy. You have to know how to manipulate all those dials and wheels on your camera before you can take good shots here. Just putting it in PROGRAM mode will work, but there are times when it will not. More later.